Take part in academic research about medical school admissions and win up to £500
Are you applying to medical school this year? Win up to £500 in Amazon vouchers by filling in surveys for an academic research study about medical school admissions.
**Click here to find out how to take part**
The UK Medical Applicant Cohort Study aims to help future applicants from all backgrounds apply to medical school.
Taking part will not affect your medical school application, but you may find it helpful to reflect on the application process.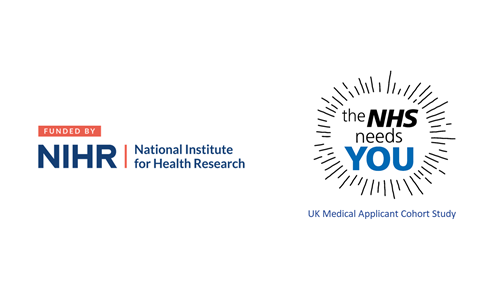 The UK Medical Applicant Cohort Study is funded by the National Institute for Health Research (Grant Reference Number CDF-2017-10-008). The views expressed are those of the researchers and not necessarily those of the NIHR or the Department of Health and Social Care.
The study is led by Dr Katherine Woolf at UCL Medical School. For more information click
 

here. 
Entry requirements for UK medical schools
Searching through the entry requirements information of over thirty different medical school websites can leave applicants feeling bewildered, and websites which collect this information can be out of date or incorrect.
To make things easier, each year we collect the entry requirements for all of the courses in medicine which are run by our member medical schools, and we get this directly from admissions staff. As well as making things clearer for applicants, this is also to highlight any 'widening participation' initiatives which are part of a course's entry criteria.
Medical schools usually have any changes to their entry criteria finalised by June ahead of the application deadline on 15 October, so this information will be updated in early summer each year. Before that time, however, you can still take the below resources to be the most accurate compilation of entry requirements.
You can see the latest document here:
Infosheets for applicants to medicine
These Infosheets each focus on a different part of the applications process and beyond. They include key facts, dates, common pitfalls, and ways of testing what you have learned.
You can download the full collection of infosheets or see them individually below.
These are topics are also the focus of a series of videos called Infoshorts. They will be available here as they are released, and are also linked below to their relevant Infosheets.
A journey to medicine: A guide for teachers and careers advisers
The Medical Schools Council has produced a series of booklets to help teachers and careers advisers in supporting their students through an application to medicine.
The series addresses different aspects of the process, from early preparations through to the UCAS application and what to do on results day. It provides a comprehensive source of accurate information, endorsed by all Medical Schools Council members, to help students in their journey to medicine.
The series is particularly aimed at those schools and colleges which have limited experience of supporting students in their application to medicine.
The documents can be accessed here:
Guidance for applicants and medical school staff on multiple-mini interviews
For students
The Interview Prep website takes candidates step-by-step through the medical school interview. The website takes 30 minutes to work through and includes videos and activities, covering:
What medical schools are looking for in candidates
What candidates can do if they don't have access to practice sessions
Dealing with nerves and anxiety
The different types of interview, including the "structured interview" and "multiple-mini interview"
The website is free and requires only a quick registration. It is made to complement the many resources on applications to medicine that can be found here on the Medical Schools Council website. We hope it will be useful for both candidates and for medical school staff and students in their outreach work.
Visit www.mscinterviewprep.co.uk to sign up.
For students and staff
The interview is one of the final stages in the medical school application process and the most common interview method used by medical schools is the multiple-mini interview (MMI). "How to run a mock MMI", created by University of Exeter medical student Olivia Eguiguren Wray and published by the Medical Schools Council, is intended to be a complete guide to running a mock MMI session. It includes tips for students and interviewers, a step-by-step guide to running a mock MMI and debrief session, practice stations and mark schemes.
See How to run a mock MMI here.
Other useful resources