Take part in academic research about medical school admissions and win up to £500
Are you applying to medical school this year? Win up to £500 in Amazon vouchers by filling in surveys for an academic research study about medical school admissions.
**Click here to find out how to take part**
The UK Medical Applicant Cohort Study aims to help future applicants from all backgrounds apply to medical school.
Taking part will not affect your medical school application, but you may find it helpful to reflect on the application process.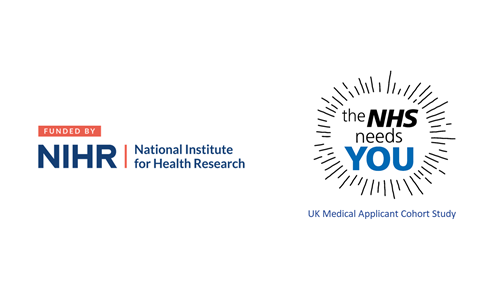 The UK Medical Applicant Cohort Study is funded by the National Institute for Health Research (Grant Reference Number CDF-2017-10-008). The views expressed are those of the researchers and not necessarily those of the NIHR or the Department of Health and Social Care.
The study is led by Dr Katherine Woolf at UCL Medical School. For more information click here. 
Making an application to study medicine can be daunting. This page aims to make the process easy to understand. It lays out the initial parts of an application in the order that you need to consider them, taking you from qualifications while at school or college to applying for financial support through bodies such as Student Finance. The second part of the application stage will require attending interviews at a medical school for shortlisted candidates. More information can be found on the interviews page.
The application procedures for international students are the same as those described on this page, however, international students will have additional things to consider. To find out more, please see our international applicants page. It is important to note that the information below is for guidance purposes only and should be confirmed with medical schools or the relevant listed organisation, directly.
Entry requirements
Medical schools are able to set their own entry requirements. Generally, the minimum entry requirements to standard entry medicine are three As at A level or equivalent qualifications. One subject, sometimes two, must be in a lab-based science (this means chemistry or biology) and some medical schools also require maths or physics at A level. Grades at GCSE or equivalent are usually considered as part of the application, but medical schools place varying emphasis on them.
The UCAS website has a list of all medical degrees available in the UK, along with minimum entry requirements. More detailed information can be found on our Entry requirements comparison tool. A PDF version is also available: in Entry requirements for UK medical schools: 2019 entry. To understand more about the different types of medicine courses available, visit our course types page.
Remember that admissions criteria for medical schools can change every year, so always check the websites of the medical schools you are interested in before you make your application. These websites will have the most up-to-date information and you will learn more about the medical schools themselves. A list of UK medical schools, with links to their websites, can be found on our medical schools page.
Contextual Admissions
Grades may be lowered for certain people according to their circumstances. This is called 'contextual admissions'. To find out if a course offers this, and whether you qualify, see the entry requirements section on the course's webpage. Look for information relating to 'widening participation' or 'widening access'.
Work experience
Applicants will be required to show an understanding of what a career in medicine involves. To assess this, many medical schools include work experience among their criteria for application.
It is important to remember that work experience can take many forms. It can be a voluntary opportunity or a paid job. While shadowing a doctor can be useful, medical schools recognise that this is not attainable for everyone. They see volunteering in a residential care home as just as good a source of experience. If you have a weekend job in a shop, then this can be a good source too.
The important thing to remember is that work experience is only as valuable as the way you talk about it in your interview. While you will be expected to show some understanding of what it is like to be a doctor, part of this will be showing that you know what it is like to work, particularly with the public. Just like in a normal job interview you may be asked things like, 'Can you provide an example of how you have worked as part of a team?' If you have had a job in a restaurant, for instance, then you will be able to use this experience to answer the question.
To get work experience, prepare a short CV and hand this in to places in your area which relate to healthcare, saying that you are willing to volunteer. These places could be care homes, hospices, general practice surgeries, and of course hospitals. If you have no luck with this then do not worry. Other useful activities might include reading medical journals or following news about the National Health Service. These things will emphasise a candidate's interest in a medical career and willingness to research. If you know any doctors then arranging time to speak with one will provide you with material to use in the interview, as well as demonstrate motivation and initiative. All healthcare professionals can be a valuable source of information and experience, not just doctors. After all, doctors work as part of large teams involving many healthcare professions, so demonstrating that you have a sense of those professions and how they work together will help you in both your personal statement and interview.
Useful links
Personal statement
In addition to high academic achievement, medical schools will look for certain skills and attributes which they believe make an ideal candidate for medicine. Medical schools will look for evidence of these attributes in your personal statement, which is part of your UCAS application. The following points in the dropdown bar have been agreed by the medical schools as the skills and attributes they are looking for.
Skills and attributes of an ideal candidate to medicine
Motivation to study medicine and genuine interest in the medical profession
Insight into your own strengths and weaknesses
The ability to reflect on your own work
Personal organisation
Academic ability
Problem solving
Dealing with uncertainty
Manage risk and deal effectively with problems
Ability to take responsibility for your own actions
Conscientiousness
Insight into your own health
Effective communication, including reading, writing, listening and speaking
Teamwork
Ability to treat people with respect
Resilience and the ability to deal with difficult situations
Empathy and the ability to care for others
Honesty
Keep these in mind while writing your personal statement. Rather than simply stating that you embody these attributes, give examples of how you have demonstrated them in the past, for instance while on work experience or through extracurricular activities.
Medical schools vary in how they assess personal statements. Some score them while others do not. They commonly use personal statements as a basis for conversation during interview, so it is a good idea to write things which you would be prepared to expand on if asked.
For more on these attributes, see the Statement on the core values and attributes needed to study medicine.
Admissions test
The majority of medical schools use an admissions test as part of its entry requirements. There are four admissions tests. Medical schools each state on their websites which test they use. You might sit different combinations of these tests according to the medical schools you intend to include in your application.
University Clinical Aptitude Test (UCAT)
The majority of medical schools use the UCAT (formerly UKCAT). Applicants register for and sit the UCAT before the UCAS application is made. Registration typically opens in May and closes in September. Testing takes place from July until October, ahead of the final deadline for UCAS applications to medicine, which is 15 October every year. See the UCAT website for exact dates and to register.
BioMedical Admissions Test (BMAT)
Some medical schools use BMAT. There are two BMAT test dates. The first is in September and allows students to get results before the UCAS deadline, with registration opening at the end of June. The second test date is at the end of October or beginning of November, with registration opening at the beginning of September. The applicant's score is sent directly to the medical schools to which they have indicated they are applying. Students must only take BMAT once in an admissions cycle. See the BMAT website for details about taking BMAT in August or October.
See the BMAT 2019 Flyer for dates and costs. 
Graduate Medical School Admissions Test (GAMSAT)
This test is used for the Graduate Entry Medicine courses and for a number of the Standard Entry Medicine courses where the applicant is a graduate. As with the UKCAT, an applicant must register for and sit the GAMSAT before making the UCAS application. Registration is in August while the test is sat in September. More can be found on the GAMSAT website.
Situational Judgement Test for Admission to Clinical Education (SJTace)
The SJTace is an admissions test used for entry to the Scottish Graduate Entry Medical Programme (ScotGEM). The following universities currently require the SJTace for their ScotGEM programme (A101): University of Dundee and University of St Andrews.
The application – deadlines
Applications to study medicine are handled through UCAS. Applicants are able to apply to up to four medical courses. If you are in college or sixth-form then you should be guided through the process by teachers.
There is a very high number of applications to medicine each year and the process takes longer than for most other courses. For this reason, application must be made just under one year in advance. The deadline is always 15 October, to begin the course in September of the following year. For those who have not yet applied, the next available time to begin a medical degree is September 2020.
Applicants to University of Buckingham or University of Central Lancashire
While much of the above information is relevant, applicants to University of Buckingham or University of Central Lancashire (UCLan) should note the following points:
University of Buckingham
The University of Buckingham is a not-for-profit educational charity that receives no government subsidies. The fees for home and overseas students are therefore the same. Read more about their fees here.
Home students are eligible for support from Student Finance England towards their studies: an annual repayable tuition fee loan of £6,165 and separate maintenance loan to help with living costs, the amount based on household income (September 2017). Students are responsible for paying the remaining balance to the university for each term's fees.
The University of Buckingham does not use admission tests as part of its selection process.
The course is 4.5 years, starting in January. The final application deadline for January 2020 is 31 August 2019.
University of Central Lancashire
Home applicants to MBBS at UCLan must be resident in the North West of England.

UCLan does not use admission tests as part of its selection process.

The application deadline for international students is 26 April 2019. Home students must submit their application by 15 October, the national UCAS deadline for medicine.