Take part in academic research about medical school admissions and win up to £500
Are you applying to medical school this year? Win up to £500 in Amazon vouchers by filling in surveys for an academic research study about medical school admissions.
**Click here to find out how to take part**
The UK Medical Applicant Cohort Study aims to help future applicants from all backgrounds apply to medical school.
Taking part will not affect your medical school application, but you may find it helpful to reflect on the application process.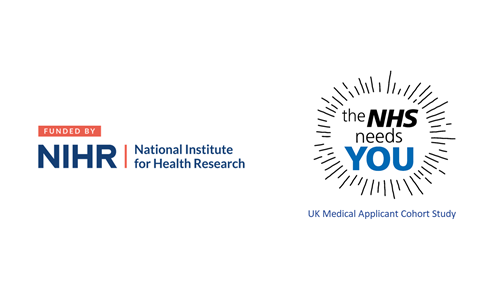 The UK Medical Applicant Cohort Study is funded by the National Institute for Health Research (Grant Reference Number CDF-2017-10-008). The views expressed are those of the researchers and not necessarily those of the NIHR or the Department of Health and Social Care.
The study is led by Dr Katherine Woolf at UCL Medical School. For more information click
 

here. 
Applicants who are from countries outside of the European Economic Area are defined as international students. The number of international places offered by each medical school is capped, a quota which is set by the government. The exact figure can be sought from induvidual medical schools directly. 
The application procedures for international students are the same as those described on the applications page. However, international students will have additional things to consider. It is important to note that the information below is for guidance purposes only and should be confirmed with medical schools or the relevant listed organisation, directly.
Non-UK entry requirements
Medical schools vary as to which non-UK qualifications they accept and what the requirements are. Normally this information will be listed on each individual university website but if you cannot see your qualifications you should contact the medical school directly. Most medical schools have a dedicated admissions email address or phone number to help with queries which can normally be found on their entry requirements pages. The UK National Recognition Information Centre (UKNARIC) can also help with comparing UK and international qualifications.
Fee status
Publicly funded universities usually group the fee status of their students by two categories: 'home' and 'overseas'. The fees for home students also differ between universities in England, Scotland, Wales and Northern Ireland, therefore specific requirements should be checked with the universities you are interested in applying to. Normally, home students are required to be both a national and resident (for a minimum of three consecutive years) of the European Economic Area countries. This includes all European Union countries and the UK. Swiss nationals and children of Turkish workers may also be eligible for home status, subject to fulfilling certain criteria. To find out what these criteria are, visit the UK Council for International Student Affairs website.
There are other criteria for an applicant to be considered a home student, but if you are unsure then it is always best to contact the medical schools in which you are interested. For further information on fee status, contact the UK Council for International Student Affairs.
Student support and scholarships
Applicants from an EU country may be able to get a tuition fee loan and help with living costs. For more detail, please see the Student Finance website.
If you have not lived in the UK and are a citizen of a country outside of the European Economic Area then overseas fees will apply. These fees vary between the different medical schools and can be found on their websites. The UK Council for International Student Affairs and the British Council offer support to help you work out how much money you will need. The UCAS website has some useful information on funding issues for overseas students.
Information on general scholarships can be found at the nearest British Council office. Scholarships or bursaries available can vary between different medical schools, and they will post information on any funding they offer on their websites. 

The British Council can help you find funding for a chosen course through its scholarship schemes and links with other websites. Many of the scholarships available are only applicable to postgraduate degrees, but some do provide funding to help cover fees for specific subjects, and scholarships may be available for specific institutions. For help with identifying the funding available, visit the British Council website.
The education departments within the UK Government, the Scottish Executive, the Welsh Assembly and the Northern Ireland Assembly decide on who is eligible for student loans and grants. The regulations on the different categories for eligible students can be complicated. To help, the UK Council for International Student Affairs has produced a summary for international students and also publishes some general information about fees, funding and student support which is available on its website.  
Language requirements
If you are applying from outside the UK and you do not speak English as your first language then you are required to provide evidence of your English language proficiency. This requirement applies to both international and EU/EEA students.
Many medical schools will prefer, or expect you to take the International English Language Testing System (IELTS). There are two versions of IELTS, the Academic test and the General Training test. You will need to complete the Academic test, which is for those who wish to study. Most medical schools will require a minimum score as part of their entry requirements. which will be listed on their websites.  
The IELTS can be taken in over 500 locations worldwide and there is a set fee for sitting it. To find your nearest test centre, visit the IELTS website.